"Waiting On" Wednesday is a weekly event hosted by Breaking The Spine, that spotlights upcoming releases that we're eagerly anticipating.

Hey Book Nerds! :) I feel like I've been a little absent again recently, but my parents have gone away on holiday and I've had a lot to do. I've started Volunteering at one (yes, we have about 8) of my local charity shops on a Monday afternoon, and I've been seeing one of my friends quite a bit recently. So, I'm really sorry! I seem to be going through a bit of a blogger block at the moment, as I really can't think of anything new to blog about, but I'm working on it! As for my reading, I've done a LOT over the past few days. I finished reading Beautiful Disaster, (5/5 stars!) then I picked up The Forest of Hands and Teeth (4/5 stars), which was really good as well! I've now started reading my proof copy/ARC of After Eden by Helen Douglas - and I'm really enjoying it so far. :) There will be a review of it posted not long after I finish reading it, as it's being released on the 7th November. Can you believe we're already at the end of October? It's weird! Anyway, that's it for today - I hope you all enjoy the rest of your week. :)
---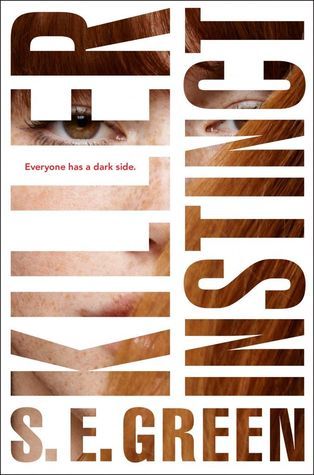 Title: Killer Instinct.
Author: S.E. Green.
Expected Publication: May 6th, 2014.
Publisher: Simon Pulse.
Format: Hardback, 272 pages.


She's not evil, but she has certain... urges.
Lane is a typical teenager. Loving family. Good grades. Afterschool job at the local animal hospital. Martial arts enthusiast. But her secret obsession is studying serial killers. She understands them, knows what makes them tick.
Why?
Because she might be one herself.

Lane channels her dark impulses by hunting criminals—delivering justice when the law fails. The vigilantism stops shy of murder. But with each visceral rush the line of self-control blurs. And then a young preschool teacher goes missing. Only to return... in parts.

When Lane excitedly gets involved in the hunt for "the Decapitator," the vicious serial murderer that has come to her hometown, she gets dangerously caught up in a web of lies about her birth dad and her own dark past. And once the Decapitator contacts Lane directly, Lane knows she is no longer invisible or safe. Now she needs to use her unique talents to find the true killer's identity before she—or someone she loves—becomes the next victim...

I've seen quite a few bloggers over the last week receive an ARC of this book - and I'm so jealous! This book is right up my alley; I LOVE murder mysteries and thrillers. But you already all know that. :P I just think this book looks so fantastic, and I really can't wait until it's released. I NEED it in possession, NOW! xD As for the cover; I wasn't sure such what I thought about it at first, but it's really growing on me. I love the effect of the image inside the text, but I do find it hard to read, especially as it's sideways! Anyway, what do you guys think of the looks of this book, have you heard of it before? :) Let me know! ^.^
---
What are you "Waiting On" this Wednesday? Leave me a comment or a link to your blog post and I'll be sure to check it out! :D Happy Reading. (: