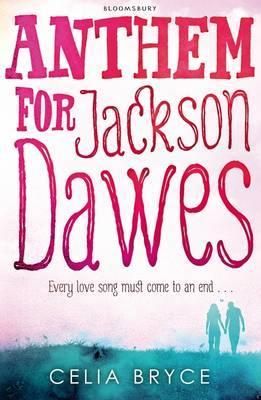 Title: Anthem for Jackson Dawes.
Author: Celia Bryce.
Publication Date: January 1st, 2013.
Publisher: Bloomsbury.
Format: Paperback, 230 pages.
Source: Provided By Publisher.
My Rating:



When Megan Bright arrives in hospital for her first cancer treatment, there is only one other teenager there – Jackson Dawes. He is cute, rebellious...and infuriating. Even so, Megan finds herself slowly and surely drawn to him.

But so is everybody. Jackson is a whirlwind of life and energy, warmth and sparkle. Megan will need some of his extraordinary optimism as they face the difficult times ahead.

An uplifting story of bravery, loss and love against the odds.




Website | Good Reads

Celia Bryce was born and raised in Jarrow and still lives on Tyneside. She is a teacher of creative writing, writes for the stage and radio and performs in schools, and also fronts a country rock band, The Katy Freeway.






Review
I was sent a copy of this book by Bloomsbury publishing in exchange for an honest review.
Megan Bright has just been diagnosed with cancer and is admitted to a children's ward in hospital to undergo treatment. She's sullen, upset that it's messing with her life and annoyed by all the dancing elephants on the walls and babies on the ward. Megan's so secluded and frustrated that she doesn't notice Jackson Dawes until he runs into her; literally! Whilst everyone is star-struck by Jackson and his happy-go-lucky personality – including her mother - Megan would rather roll her eyes and try to ignore him. Except; Jackson doesn't get ignored, ever.
Jackson keeps pushing, and slowly his contagious personality wears Megan down. He fills her drab and dreary world with colour and lights, distracting her from the foreboding treatment she's undergoing. Jackson seems like the only one who understands what she's going through and they grow closer and closer with each and every day. All this is good, considering the tricking times ahead they both will have to face.
Anthem for Jackson Dawes was an interesting novel to read with a very emotional storyline. I was expecting a blossoming romance between Megan and Jackson, but I was disappointed to find that the romance was very thin on the ground. The book suggests a budding relationship, but from how I read it, there was a beautiful friendship with no proper romance at all; which was sad, but not the end of the world.
I'm still a bit on the fence on how I feel about Megan's character. Her personality wasn't overly well developed and she acted very stroppy and rude at the beginning of the novel. However, as the book progresses, she does develop and transforms into a much nicer, more carefree character. Her entire change is all to do with Jackson. At first, Megan doesn't want to accept she has cancer, and acts like no one else in the entire world can understand how she's feeling. But slowly and surely, Jackson creeps under her skin, lifting her spirit and bringing light back into her life. Even though by the end of the book we still don't know a whole lot more about Megan, I believe we have a better understanding of her.
Jackson is a ray of light, bursting through the sky and a whirlwind exploding into hundreds of different colours. He is such a bubbly character and I loved this determination to break the rules and to try and live every day as if it were his last. Jackson is loved especially by the little kids, he tells stories and plays games with them to try and distract them from the bad cancer cells. Even though the book doesn't really go into much more detail about Jackson's character either, I thought he was really memorable and had this charm and way about him that made you unable to hate him and his optimism.
There were a few aspects of this book that really annoyed me, but the thing that I kept picking up on the most was; 'Will I get a nurse?' and 'Will I come round there?' This phrasing was used quite a bit and thoroughly frustrated me. First off; it's doesn't make sense – the correct way to say the sentence should be; 'Shall I get a nurse?' or 'Shall I come round there?' I'm a big fan of punctuation and grammar and this really bugged me every time someone spoke like it throughout the book. Now, this maybe the way the people talk in the book from their part of the country, but I've never heard anyone speak like that before.
Overall, I really did enjoy reading this book, it made me cry but I wasn't connected to the book as I thought I would be. The writing, albeit lovely at times, was also rather confusing and I found it frustrating that it skipped from one scene to another so quickly. I believe that writing about the whole concept of being in hospital for chemo is a tricky and sensitive subject, but Celia writes about it in a truthful and honest way. I also believe that, given the subject matter and the fact that there can't be a whole lot of variation to it, she did an excellent job. If it weren't for those these things that nagged me, this book would of easily gotten a 4/5 stars. However, those things are there and I think that my 3/5 stars rating reflects that it's a great novel, even with its fault. Celia Bryce is definitely a writer to look out for and I would recommend Anthem for Jackson Dawes to anyone who loves to have their heart broken. (In a good way of course!)
Quotes

Kipper sniffed and snuggled in a little nearer, so that Megan could feel every angle of the girl's
body next to hers and the smooth bald head burrowed under her chin. It felt remarkably warm
and not quite bald, but slightly downy, like a baby's. - Page 71.

Megan watched as everything about her, everything that said who she was, slid down her
shoulders and cascaded to the floor, like leaves shaken from a dying tree. - Page 125.

Megan sat in Jackson's chair, in the hollow that he'd made, so that it held her, hugging her
whole body. She laid her hands on the armrests where his fingers sometimes tapped out a tune,
found herself pecking at the wood with her nails. She breathed, slowly and deeply, the air
Jackson had breathed that very morning. She could almost feel him there in the room, as if he'd
left some part of himself behind, just for her. - Page 155.