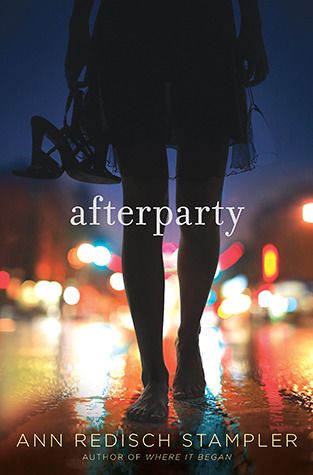 Title: Afterparty.
Author: Ann Redisch Stampler.
Publication Date: December 31st, 2013.
Publisher: Simon Pulse.
Format: Paperback, 401 pages.
Source: ARC Provided By Author.
My Rating:



Emma is tired of being good.
Always the dutiful daughter to an overprotective father, she is the antithesis of her mother -- whose name her dad won't even say out loud. That's why meeting Siobhan is the best thing that ever happened to her...and the most dangerous. Because Siobhan is fun and alluring and experienced and lives on the edge. In other words, she's everything Emma is not. And it may be more than Emma can handle.

Because as intoxicating as her secret life may be, when Emma begins to make her own decisions, Siobhan starts to unravel. It's more than just Dylan, the boy who comes between them. Their high-stakes pacts are spinning out of control. Elaborate lies become second nature. Loyalties and boundaries are blurred. And it all comes to a head at the infamous Afterparty, where debauchery rages and an intense, inescapable confrontation ends in a plummet from the rooftop...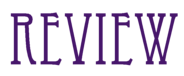 Afterparty is a really wonderful novel with an incredible opening paragraph that I'm sure will grab anyone's attention. I often found myself giggling whilst reading this novel, as Ann Stampler's writing is really funny and I loved how our main protagonist had a 'moral compass', which was always trying to point her in the correct direction. I did find myself confused on many different occasions throughout Afterparty. It seemed like it would go off track completely for a few paragraphs and then be suddenly back. I also felt like the sentences just kept rambling on about pretty much nothing, and as much as it seemed like Ann was trying to make a point – she just didn't seem to get there. The majority of the time this happened when Emma was talking – maybe it's just a quirky feature in her personality? I don't know, but don't get me wrong, if you can put aside these certain problems, Afterparty really is a fantastic book with a wonderful plot – and luckily for me, I managed to do so because I was so engrossed in the story.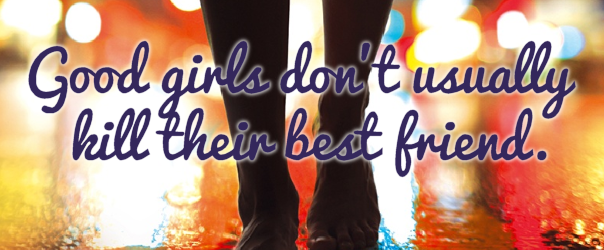 Emma is our main protagonist and I really liked reading about her. She has an over-bearing dad with strict rules and is struggling with the decision to continue to be a good-girl, like she's been her whole life – or try something new and break some of the rules her dad has set. I thought Emma was an incredibly good friend, I know I wouldn't have put up with all the crap that Siobhan, her new best friend, did to her at all. She was also a very patient, kind, caring and overall a lovely character. I really loved how Emma slowly started to hate Siobhan, and I found it incredibly funny to see the process. At first, Emma bent over backward to please Siobhan, and did pretty much everything she said – but as the novel progressed you really got to see how much Emma started to resent Siobhan and see her true colours. Of course I felt bad for Emma – but to be honest, I don't know why Emma didn't dump her sooner!
Siobhan is Emma's best friend, and from the first moment they meet – they suddenly become inseparable. I started off not minding Siobhan's character, and I thought she was really upbeat and interesting with a quirky personality, but as the novel progressed, I started to really dislike her (I'm pretty sure you're meant too!) Siobhan becomes more and more controlling the further you get into Afterparty, she's also gets very moody and becomes very unpleasant and downright evil. What I found slightly annoying, was the repetitiveness of Emma and Siobhan's arguments and fall outs. She and Siobhan fight, then make up, then fight again and make up once more! It was also always the same argument; about how Emma finds it difficult to break the rules because of her dad. Although in the end I didn't like Siobhan's character, it was quite interesting seeing her slowly go crazy and become so obsessive.
Dylan is the love-interest in Afterparty, and to be honest – I had really mixed feelings about him. One minute I really loved his character, the next I was wondering why the hell Emma was pining over him so much. I suppose Dylan did have his good points, he was sweet, funny and really did seem to care about her – but I questioned a lot of his decisions. I also found it really irritating that he'd just straight out believe everything Siobhan said to him about Emma, even if things weren't perfect with him and Emma at the time. I also really didn't like the fact that Dylan was portrayed as such a perfect character – when all he'd ever do was skip class and get stoned, then borrow Emma's notes because she attended class. It was totally obvious that Emma liked him, and even though he said he'd liked her too at the time – he did some really jack-ass things.
Over though, I really did enjoy reading Afterparty – and sped through it really quickly! Ann Redisch Stampler's writing is really different from what I've read before, but really engaging, fun and quirky all the same. For example; it took me quite a while to get used to reading sentences like 'I am sorry' instead of 'I'm sorry' – this is definitely not a criticism, as there's absolutely nothing wrong with it. It was just a surprise to read the writing with such a traditional format. I do however, believe that Afterparty well and truly deserved the 4/5 star rating, it was really fantastic and page-turning book that kept me in suspense until the very end! I'd recommend this book to any contemporary reader, especially someone who loves some good old girl drama. I really believe Ann Redisch Stampler is definitely an author to keep an eye on!
Quotes
"Watch this," she says. "New game. It's called shock-the-dork."
She walks over to two middle-aged guys who look a lot more clueless than the one she usually likes going after. She waves a cigarette at them; they grope for their lighters, matches, whatever it takes to keep her happy. She's all giggly and girly until one of them offers her another drink and she shrieks. "No! I will not meet you in your hotel room! I'm sixteen years old! What's wrong with you?"
The men throw money on the bar to pay for their half-drunk drinks and sprint toward the escalator.
"I am not clinically depressed or suicidal or insane. I just want to kill Siobhan, is all."
Siobhan, when she's annoyed, doesn't keep it to herself.
In the morning, the slamming theme extends to her locker, books on desktops, and snack trays at break. When she talks to me, I (and everybody else within a hundred yards) can tell she's seething.
Dylan says, "Should I avoid dark alleys and homeroom? Eat lunch with me. I'll protect you if she creeps up and tries to hit you with a lunch tray."