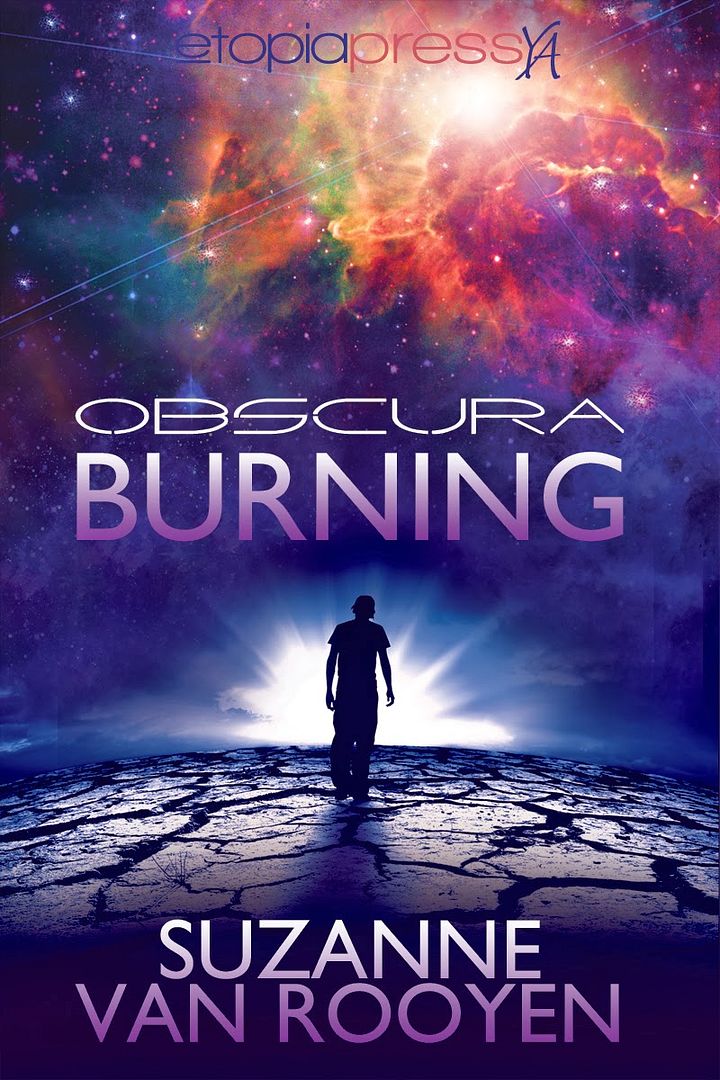 Title: Obscura Burning.
Author: Suzanne van Rooyen.
Publication Date: December 7th, 2012.
Publisher: Etopia Press.
Format: Paperback, 300 pages.
Source: Provided By Author.
My Rating:



The world's going to end in fire...and it's all Kyle's fault.

Kyle Wolfe's world is about to crash and burn. Just weeks away from graduation, a fire kills Kyle's two best friends and leaves him permanently scarred. A fire that Kyle accidentally set the night he cheated on his boyfriend Danny with their female friend, Shira. That same day, a strange new planet, Obscura, appears in the sky. And suddenly Kyle's friends aren't all that dead anymore.

Each time Kyle goes to sleep, he awakens to two different realities. In one, his boyfriend Danny is still alive, but Shira is dead. In the other, it's Shira who's alive...and now they're friends with benefits. Shifting between realities is slowly killing him, and he's not the only one dying. The world is dying with him. He's pretty sure Obscura has something to do with it, but with his parents' marriage imploding and realities shifting each time he closes his eyes, Kyle has problems enough without being the one in charge of saving the world...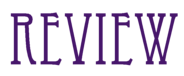 Obscura Burning is a really fantastic and incredibly interesting novel that will have any sci-fi lover hooked from the first few chapters. Suzanne van Rooyen created a great, wonderful and unique story line that kept me constantly turning the pages – I just didn't want to put it down! There are so many twists and turns throughout Obscura Burning, which were amazing – and I loved how real the whole thing seemed – even though it was sci-fi! The smallest of decisions could set off a completely different chain of events throughout the book, and you get to experience them all with the main character. Although Obscura Burning was little confusing at times, and I found it a little hard to follow, it was pleasure to read and I loved every minute that I was reading it.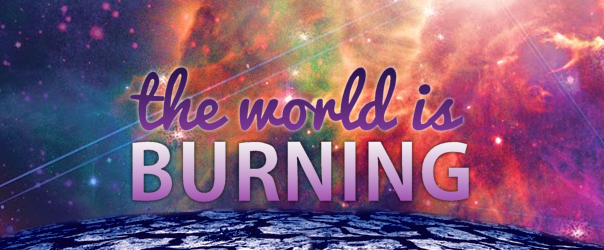 Kyle Wolfe is our main protagonist and he is gay – at least, he's pretty sure he is. I'd like to say quickly, that if you're not interested in, or don't like LGBT stories in general, I really wouldn't recommend this book. Although there aren't any graphic scenes or much romance throughout this book at all – but there are plenty of references. Moving on! I really loved Kyle's character, he was a really down-to-earth guy, and even though the book was written by a woman, it didn't show through on to Kyle's character in the writing like I've seen before in the past. Although a little messed up and definitely confused about a number of things in his life, Kyle was a solid, interesting, smart and generally a caring guy and very well developed. There was also this dark and mysterious edge to his because of his memory loss, which made him even more likable.
Even the secondary characters throughout Obscura Burning were amazingly well developed. Danny is Kyle's boyfriend, and I liked his character a lot at first. He was kind, sweet and seemed to really care about Kyle. However, as the novel progressed, my dislike of him grew quite a bit – he became a little self-centred (even though he had his reasons) and I really questioned some of his decisions and motives. Overall though, he was a nice character to read about, even if I had my doubts about him. Shira is Kyle's and Danny's best friend and from the start I wasn't really that keen on her at all. She was also a little self-centred, and I didn't get the impression that she cared much about Kyle at all – even as a friend. It seemed like she actually pitied him, but that's probably just what her character was like. Lastly, is Mya; a girl Kyle meets in both parallels; in one they become best friends and in the other she's completely different and cruel. I really did love Mya's character though (in the reality where she and Kyle are friends); she was kind, caring, sweet, funny and treated Kyle like a normal person – unlike pretty much everyone else in their tow – and she was definitely my favourite secondary character!
Overall, I thought Obscura Burning was a really well written and absolutely mind-blowing and extra-ordinary novel, with an ending that left me stunned and shocked to my very core. I had no idea how the story would end; and I must have come up with tons of different possible outcomes - but I just didn't see the ending coming! I believe it well and truly deserves the 4.5/5 star rating, and if it weren't for a few of the things I've mentioned, it would have definitely earned that extra half-star. Obscura Burning is a dark, twisted and mysterious novel that I'm sure anyone will be drawn into, even if they're not a huge sci-fi reader. Susanne van Rooyen's writing is really beautiful and in a league of its own, I've never read anything like it before. I can't wait to read more from Suzanne van Rooyen in the future, she's definitely an author to keep an eye on!
Quotes
There's nothing worse than a doctor's waiting room, than that dread of anticipation liquefying your insides. Spent enough time around shrinks as a kid. They always asked why. Why did you set the fire? Because I like it. But why? I didn't know then, but maybe I do now. Because there's real power in controlling something that beautiful and that destructive. - Page 94.
She's going through hell? As if me getting burned was a walk in goddamn Armadillo Park. Hell is getting beaten up by your dad every night because your mom works the night shift. Hell is feeling less of a human being for liking boys. Hell is being suffocated by the guilt of cheating on someone you love. Hell is second- and third-degree burns, new dressings, needles and nurses, morphine, and split fucking reality that makes you wish you were dead. That's hell for you, Mom. - Page 129.
"Hey, Miss Death and Feathers, at least I'm not the one banging my dead friend's boyfriend." - Page 216.