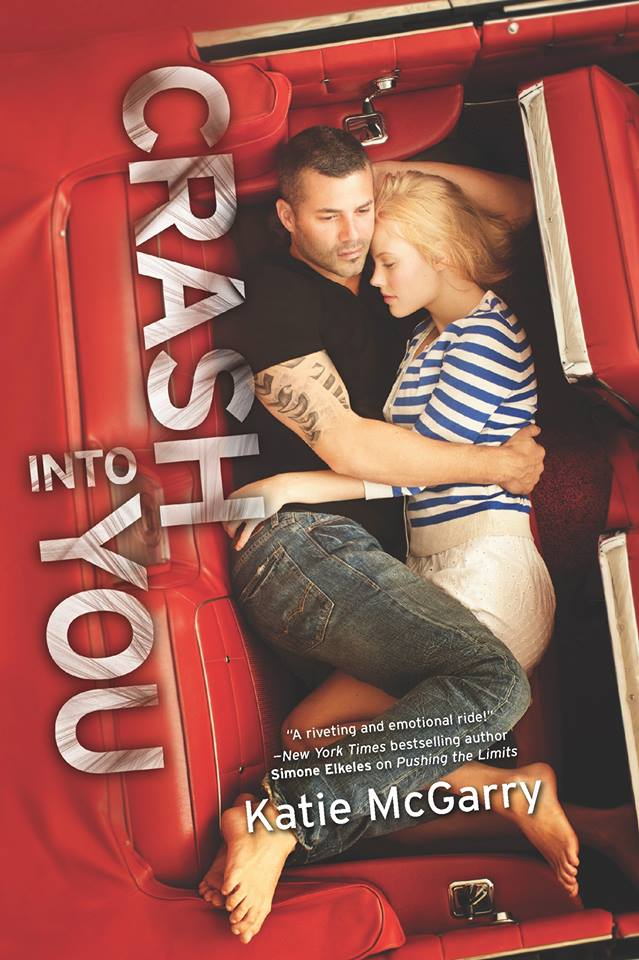 Title: Crash Into You.
Series: Pushing The Limits, #3.
Author: Katie McGarry.
Publication Date: November 26th, 2013.
Publisher: Harlequin Teen.
Format: Paperback, 474 pages.
Source: ARC Provided By Publisher.
My Rating:



The girl with straight A's, designer clothes and the perfect life - that's who people expect Rachel Young to be. So the private school junior keeps secrets from her wealthy family...and she's just added two more to the list. One involves racing strangers down dark country roads in her Mustang GT. The other? Seventeen-year-old Isaiah Walker - a guy she has no business even talking to. But when the foster kid with the tattoos and intense gray eyes comes to her rescue, she can't get him out of her mind.

The last thing Isaiah needs is to get tangled up with a rich girl who wants to slum it on the south side for kicks. But when their shared love of street racing puts their lives in jeopardy, Isaiah and Rachel will have six weeks to come up with a way out. Six weeks to discover just how far they'll go to save each other.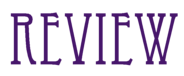 Katie McGarry has done it again – she's created an amazing and beautifully written contemporary novel that I just couldn't put down! I laughed, cried and gushed over every little thing in Crash Into You, and although it was a large book, I sped through it incredibly fast. Katie McGarry is one of my favourite authors – if you've not read any the books in this series then you are well and truly missing out! I recommend them to anyone, it doesn't matter if you're older; I'm sure you'll fall in love with Katie's writing and characters. I'm running out of words to say how much I adored this book, and I think that it may possibly be my favourite of the three so far – but we'll have to see!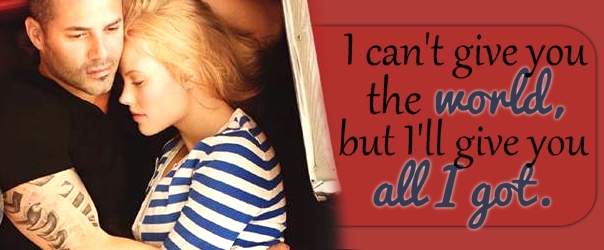 Isaiah is smoking hot ball of passion and emotion – and I fell in love with him from book one. I was so excited to know that he was having his own book, because there just wasn't enough of him in the previous books, and I really wanted to see him have a happy ending. Although Isaiah may seem like a tough guy, he hides behind his tattoos and piercings – hiding his dark past and has already assigned himself a bleak future. He's really a kind, caring, brave, compassionate and gentle guy who just wants to be loved (even though he'd never really admit it!). I can't find a single fault with Isaiah's character, he's amazing and I love everything about him, he's had a hard life but is trying to turn things around and refuses to be sucked down by drugs and theft. Isaiah's a motivated and slightly hot-headed guy, but I think he deserves nothing but the best.
Rachel is also an amazing character as well, and so different from every other female lead I've read about. Although I couldn't relate about her love of cars, I understood her family troubles and I felt like I could feel all of her desperation and need to be seen for who she really was. Rachel may have had everything she's ever wanted, with a big family and plenty of money – but behind the facade there are cracks. She's constantly trying to live up to her dead sister who she was born to replace and tries to keep her real self confined to please her parents. However her mask is slipping and she is constantly struggling to be who her parents want her to be. Rachel is a beautiful character; kind, caring, shy and suffers from awful panic attacks. As a panic attack sufferer myself, I could understand how she feels and my heart well and truly went out to her.
Abby is Isaiah's friend that he's known since they were kids, at first, I wasn't sure if I liked her that much at all, but as the book went on I grew to love her. She and Rachel struck up an unusual and wonderful friendship that made me smile like a complete idiot. She may not have been a huge part of the book, but I thought she deserved a mention! Moving on; Isaiah's and Rachel's relationship was on fast-forward from the beginning, but it didn't feel like insta-love at all. They knew how they felt about each other from their first encounter and went from there and eventually fell in love. Their relationship was amazing and I loved seeing it progress and their reactions to each other and affection were definitely swoon-worthy!
Katie McGarry is a writing-genius and god all wrapped up into one. Her characters are incredible, loveable and her writing style beautiful, fun and heart-wrenching all at the same time. I wish I could read more about Isaiah's and Rachel's relationship as I want to read more about them, and I also wish that Katie McGarry would write lots more books in this series. I think a book on Abby's character would be absolutely fantastic! If I could give this book more than 5 stars, I would – but unfortunately that's not really possible, so I'll just finish with saying that Crash Into You was an phenomenal book that everybody and their mothers should read. I can't wait to read the next companion novel in this series, and anything else Katie McGarry may write in the future. I'm completely hooked and I'm sure I will never stop loving Katie, this book, or the others in this series.
Quotes
"You can ignore me, Rachel, and you can try to treat me as a friend, but none of that will erase the fact that I think about kissing you every second I'm awake and dream at night of my hands on your body. And it sure as hell won't erase that I'm terrified by how much I like you."
"One day I'll get a tattoo for you."
Warmth explodes in my chest, in awe that he would mark himself for me. "You don't have to."
"I will." His fingers trace my cheek and chills of pleasure run down my spine. "It's what I do. Each tattoo represents the only happy memories I've had. And you, Rachel, you're the happiest."
Maybe this is what happens when you fall in love. On the outside a lighter is nothing amazing, but it holds all the ingredients that can create something wonderful. With a few pushes in the right direction, you can inspire something so brilliant that it pushes back the darkness.