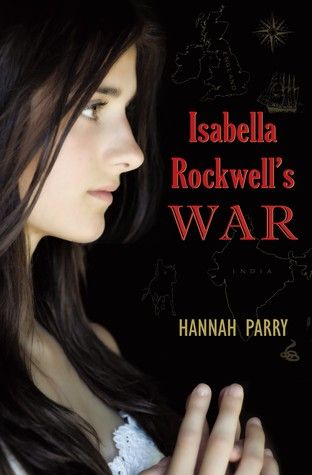 Title: Isabella Rockwell's War.
Author: Hannah Parry.
Publication Date: August 23rd, 2012.
Publisher: Hannah Parry.
Format: Paperback, 288 pages.
Source: Provided By Author.
My Rating:



Raised in 1820's India, twelve year old Isabella Rockwell can ride and shoot as well as any of the soldiers in her father's regiment. These skills, however, are of no use to her when she finds herself on the frozen streets of London, orphaned and alone. Tormented by guilt over the deaths of those who loved her, she vows never to be responsible for anyone's life again. If she can scrape together enough money, she will return to India. But Isabella cannot shake the creeping feeling that something is not right; that something threatens not only her new best friend, but the throne of England itself.

Having survived this far on her wits alone, will Isabella escape back home to India? Or will she stay with Alix, a girl whose fate seems to be tied up with Isabella's own? A fate which will have consequences far beyond those Isabella could ever have imagined.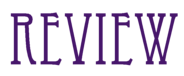 I was contacted by Hannah Parry, the author of Isabella Rockwell's War, asking if I would be interested in reading and reviewing her novel. At first I was a little hesitant, mainly because; if any of you follow my blog, you'll know that I'm not a huge fan of Historical Fiction. I've never really been sure of the reason why this is - I find that I'm not a fan of films that are set back in time either. However, the synopsis of Isabella Rockwell's War looked really intriguing and interesting – and I was willing to give it a shot. I was very pleasantly surprised to find that, not only did I read this book quite quickly, but I also thoroughly enjoyed it as well!
Isabella Rockwell was raised in India in the 1820's until she hears the terrible news of her father early death. Isabella is then shipped off to London, England until she turns sixteen and is able to claim her father's pension money. Unfortunately, things aren't as they seem and Isabella ends up on the streets of London, cold and alone. As Isabella tries to scrape together enough money to make it home to India she can't seem to shake the creeping feeling that something is not right; that something threatens not only her new best friend, but the throne of England itself.
When I first started reading this book, I was a little worried that I wouldn't be captured by the story. The first few chapters of the book were a little slow and I started to think that it wasn't going to pick up. However, all of a sudden the book picked up its pace and started getting really interesting and I'm so glad that I continued to push on and continue reading it. The ending of Isabella Rockwell's War completely took me by surprise, but I believe it was done perfectly. Whilst reading the book I was constantly trying to guess what would happen next, but I was always wrong – which made it even more fun to read – I find overly predictable books tend to get boring at times. Hannah Parry's writing style is beautiful and so down to earth that it's easy to get sucked into her story world and be absorbed by her wonderful characters.
I loved Isabella – she was such an inspirational and lovely character. I usually tend to read novels with characters that are quite a bit older – mainly because I find very immature characters a bore and really irritating. However, Isabella is quite the opposite! She's strong-willed, smart, kind and independent. All of these characteristics blended together to create the amazing character that she is – I envied her strength and determination to carry on and live with the hand that she's been dealt. Isabella was just a very likeable and interesting character that everyone will love – and she's quickly become one of my favourite young characters.
There are other, secondary characters that we meet throughout this novel. Although it doesn't go into deep detail about all of them, you can tell they were all really well thought through. Each had their own different, interesting and quirky personalities which I loved. Out of all of them, however, my favourite had to be Alix – even though she's a princess and has always gotten whatever she wanted; she was not at all conceited or rude. All Alix ever wanted was the love and affection of her mother, and all her mother wanted was more and more money. I wouldn't have blamed her if she turned out to be a spoilt, uncaring brat – but she was quite the opposite.
Overall, I thought this was a fantastic read with an inspirational and strong message about survival and how good things can happen, even when things look bleak. I would recommend it not only for the younger readers, but adults as well. I'm so glad that I decided to give this novel a try despite my previous misgivings. I believe the 4/5 star rating is a perfect fit due to the reasons I have stated above. I'd like to thank Hannah for sending me her novel for review; this book has completely changed my perspective of Historical Fiction. I can't wait to be able to read more from Hannah Parry, I can't believe she's not more widely recognised - she's definitely an author to keep an eye out for!
Quotes
She felt as if a bucket of freezing water had been poured over her head. How could she have been so naïve? Of course there wasn't any money. She'd been an inconvenience and they'd had to get rid of, so they'd sent her back to England, not even having the decency to let her starve in her own country. But that would have been bad form, and the regiment couldn't have that, something even Lady Molesey knew. She was a worthless nuisance, nothing more. - Page 45.
Stuffing hot raisin buns into their mouths as they walked back down to the river, Isabella felt something inside her. It was unfamiliar, but not unpleasant. It felt very small and she wanted to put her hands around it, to protect it, but it was still inside her the next morning. Even the morning after that. It was a tiny flickering flame of hope. - Page 72.
Isabella gazed at Mrs Jolyon. Could she tell her the truth? Excited as she was, something stopped her. The stakes were too high. Instead Isabella patted her waistline which bulged slightly.
"It's what I've been saving for... Zachariah managed to sell a couple of trinkets I... er... came across." Mrs Jolyon held her hand up, but she was smiling.
"Don't tell me anything I don't want to know." - Page 226.