Title: Lost In Thought.
Series: The Sententia, #1.
Author: Cara Bertrand.
Publication Date: September 21st, 2012.
Publisher: Book Baby.
Format: Kindle eBook.
Source: Provided By Author.
My Rating:



Lainey Young has a secret: she's going crazy. Everyone else thinks she has severe migraines from stress and exhaustion. What she really has are visions of how people died—or are going to die. Not that she tells anyone that. At age sixteen, she prefers keeping her crazy to herself. When doctors insist she needs a new and stable environment to recover, Lainey's game to spend two years at a private New England boarding school. She doesn't really think it will cure her problem, and she's half right. There is no cure, but as she discovers, she's not actually crazy.

Almost everyone at Northbrook Academy has a secret too. Half the students and nearly all the staff are members of the Sententia, a hidden society of the psychically gifted. A vision of another student's impending death confirms Lainey is one of them. She'd like to return the crappy gift of divining deaths with only a touch, but enjoys spending time with Carter Penrose—recent Academy graduate and resident school crush—while learning to control it. Lainey's finally getting comfortable with her ability, and with Carter, when they uncover her true Sententia heritage. Now she has a real secret. Once it's spilled, she'll be forced to forget protecting secrets and start protecting herself.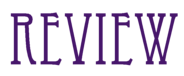 I featured this book in one of my Friday Finds posts a few months back and the author contacted me not long after, offering to gift me a an eBook copy of her novel for review. I eagerly accepted and I can't believe I'm only just now getting round to reading and reviewing it. I'm finding it hard to begin to describe how fantastic this novel was.
Lainey Young thinks she's going crazy. Whilst everyone around her thinks she suffers from severe migraines that often make her pass out – the truth is something more absurd. Lainey really has visions of how people died – or how they're going to die. Lainey has lived with her Aunt Tessa, since she was 5 years old and her parents died. Since then, she's moved around the country, following her Aunt's passion and career as an artist – never staying in one place long enough to form attachments.
When her Doctors insists she needs a new and stable environment to help improve her 'migraines', Lainey jumps at the chance of finishing her two remaining High School years at a private boarding school in New England and start acting like a normal teenager. Not long after being settled into Northbrook Academy, a sudden vision of a classmate's death engulfs her, and Lainey is forced to admit that maybe she isn't going crazy – and that her visions are real. When she then goes in search of answers about her parents and their past, nothing can prepare Lainey for the truth of who she really is and what she is really capable of.
First off, I would like to start with saying how incredible and natural Cara Bertrand's writing is. The entire writing style is so down to earth and relatable that it was a pleasure to read. Everything about this book was just amazing and the plot and storyline was just incredible and so unique in its own way. I had to force myself to put my kindle down on several occasions so I wouldn't read it all in one sitting and rush it.
I really loved Lainey's character – she was so down to earth and interesting – even with her unusual upbringing. Lainey was a very smart, interesting, funny, witty, kind and overall just a lovely character. I loved how she didn't get herself wrapped up in all of the angst and teenage drama that so many characters can be. Lainey is also incredibly mature and responsible for her age, and there are many scenes throughout the book that I'm sure a different teenager would have reacted differently to. At the end of the book, there is a scene where Lainey acts incredibly responsible and shows how much of a good person she really is – even when it wasn't warranted.
Carter Penrose is the love interest of pretty much every girl at Northbrook Academy. A former academy student, runner, part owner of the onsite book store and a total hottie – it's no wonder that all the girls go gaga for him. Apart from being the local heartthrob - Carter seemed like a really upfront, honest, sweet, funny and kind guy. You read about some of the mistakes he's made in his past, but you grow to know about how much he's regretted them. You also learn about how hard he tries to be the type of person he wants to be and who he thinks Lainey deserves. I really did love Carter character, and I also think he's incredibly considerate and mature for his age – considering the fact that males seem to mature much slower than females!
What I loved about Lainey and Carter's relationship throughout the book is that neither one of them seemed to lose all their common sense or logic when it came to the other person. They saw each other for who they really were and not what they appeared to be. The chemistry between them was incredible and totally swoon-worthy; I can only hope I'll find something similar in the future.
Overall I thought this book was amazing – and I'm still trying to come up with enough adjectives to describe how awesome and wonderful this book was. My once overly literate self seems to have gone out the window. The ending left me completely gobsmacked; I wasn't excepting what happened at all, and I still can't believe it did – but it was also the perfect ending. I believe the 5/5 star rating I gave this book was well and truly earned and it deserves nothing less! I can't wait for the sequel to be released, I'm sure I'll devour it in no time.
Quotes
The problem was that I saw dead people. Or more specifically, I saw visions of how they died. Most lasted only a few seconds, a handful were gruesome, and I swore some of them were visions of how people were going to die. - Loc 153, 4%.
I looked up at him from where I was scratching notes in my notebook. He had an impish grin on his face that suited him, like any kind of smile. It was contrasted by the sunshine streaming in from behind him, lighting up his golden-brown hair like a halo. Angelic and devilish, all at once. That wasn't a bad metaphor for Carter Penrose, I thought. - Loc 1179, 29%.
Whatever else I felt about him, every touch from Carter was warm and reassuring. Or electrifying, but I wasn't thinking about that right now. When he made to let go, I kept hold. Today, I needed not only a guide through this craziness but also an anchor. Carter would have to be both. - Loc 1559, 39%.