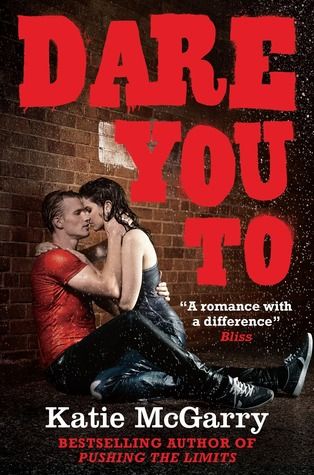 Title: Dare You To.
Series: Pushing The Limits, #2.
Author: Katie McGarry.
Publication Date: June 7th, 2013.
Publisher: Mira Ink.
Format: Paperback, 352 pages.
Source: Provided By Publisher.
My Rating:



Ryan lowers his lips to my ear. "Dance with me, Beth."

"No." I whisper the reply. I hate him and I hate myself for wanting him to touch me again...

Beth Risk has spent her whole life hiding the truth about her family and never letting anyone get too close. Suddenly send to live with an uncle she barely knows, she's struggling to start afresh in a new town and at a new school that doesn't get her. At all.

Ryan Stone is the school's gorgeous golden boy – with secrets he can't tell anyone. As Ryan and Beth dare to let each other in, they're treading on dangerous ground – and the consequences could change their lives forever.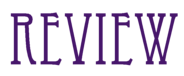 "That must be love: when everything else in the world could implode and you wouldn't care as long as you had that one person standing beside you."
When I first started reading Dare You To, I was a little apprehensive about it. Mainly because, like a lot of other readers, I wasn't sure whether Beth and Ryan's story would live up to the fantastic story told in Pushing The Limits. I'm so glad to say that I was completely wrong! After getting over the initial disappointment of Beth and Isaiah not being together, I allowed myself to get sucked into Beth and Ryan's stories and become as one with their pain and issues.
When we first met Beth in Pushing The Limits, I have to say – I wasn't a big fan of her character at all. She seemed a little selfish and to up on her high horse for no good reason what so ever. However, in Dare You To, we learn more and more about Beth's character and her extremely trouble home life. As the novel progressed, and I learnt more about Beth and her troubles – I became to love her character. Despite everything that she's been through, she's kept strong and hasn't allowed herself to crash and fall due to any of it. Beth refuses to let anyone get close to her; she has her walls built up so high she doesn't even know how to break them down anymore. Whilst reading about Beth, I felt I could almost feel her pain and sadness – she's such a raw and intense character that it's pretty much indescribable to talk about.
Ryan is one of the most popular guys at school; he's a jock and an elite baseball player – quite the opposite of Beth. He loves playing dares and he hates to lose. Things change when he gets to know Beth, but only slightly – she's no longer a dare, but someone he cares for deeply – yet he's still determined not to lose anything, especially her. The thing I loved most about Ryan was how he wouldn't let Beth leave; he constantly called her out on it – but in a good way. He refused to let her go and couldn't get enough of saying how much he cared for and need her. Ryan was also a really sweet, kind and funny guy – why can't I seem to find myself a Ryan?!
I loved watching Beth and Ryan's relationship grow and develop. The couple are so uneasy around each other at first, but as they allow their walls to fall, their relationship blossoms into something so beautiful and wonderful that it makes me tear up just thinking about it. Their need for each other was so intense that you could nearly see it pouring off the pages. It wasn't just their psychical need for each other that was incredible, but also their emotional bond and the friendship they formed. Something else I loved about their relationship was how they were constantly testing and pushing each other and their boundaries. All of these things just knit together and I believe they make them the perfect couple – because despite their flaws and issues – they still had each other.
I have to say, even though I've never been in a situation like Beth's – I believe pretty much everyone can relate to her. We're all filled with doubts and insecurities; I know, for me especially, I find it hard to determine whether people actually want to be around me, or if they're just using me or feeling sorry for me. The same goes for Ryan's character, he's a very relatable person – even though I've not been in his situation – I know countless people have. Parental pressure is a very common thing these days, with people's parents deciding what you're going to do with your life and how you should do it. I believe Katie McGarry handled all the difficult issues in this book perfectly and in a very sensitive way.
Katie McGarry's writing is pretty much flawless and I have yet to find any fault or something that I didn't like in her novels so far. Katie is very versatile, and is not only able to create and work with so many different types of characters, but also is able to get into their minds and express what the characters are going through perfectly. I'm full of nothing but praise for Katie McGarry and her perfect writing, storylines and characters. I believe the 5/5 star rating was well and truly deserved and I wouldn't even consider giving it any less! I can't wait to read even more from Katie in the future and I'm on edge and jumping in joy for the release of Crash Into You, which will be Isaiah's story.
Side note: Something I'd love to see written about is the story of Chris and Lacy. (Two of Ryan's Best Friends) I think it would be amazing to see their point of view and how their relationship developed and the troubles they both have faced.
Quotes
Ryan whispers to me again, "I'm dancing with you because I love the look on your face."
"Love watching me make a fool out of myself?"
"No. I love seeing the girl Scott and Lacy say you can be." He stares at me as if he's seeing beyond my skin and my heart pounds out of my chest so violently that he has to feel it. My nerve endings become raw. Somehow, Ryan's seeing me and I'm exposed – as if I'm standing naked in front of a large open window. My hands slip from his neck, but as I try to step back, he clutches my waist, rejecting my escape. - Page 222.
"Kiss me," she says.
Just one kiss and her black spell, the one that she's woven, the one that's constantly weighing her down, will be broken. - Page 241.
I love how he makes me laugh. I love how he can smooth away the roughness and make me feel like someone worth loving. - Page 361.