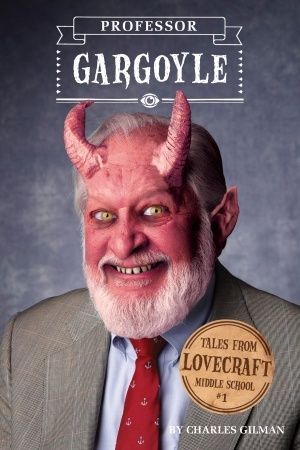 Title: Professor Gargoyle.
Series: Tales from Lovecraft Middle School, #1.
Author: Charles Gilman.
Publication Date: September 25th, 2012.
Publisher: Quirk Books.
Format: Hardback, 168 pages.
Source: Provided By Publisher.
My Rating:



Strange things are happening at Lovecraft Middle School. Rats are leaping from lockers. Students are disappearing. The school library is a labyrinth of secret corridors. And the science teacher is acting very, very peculiar. Robert Arthurt knew that seventh grade was going to be weird, but this is ridiculous!

With the help of some unlikely new friends, Robert discovers there's more to Lovecraft Middle School than meets the eye. Can he uncover the secrets of the school before it's too late?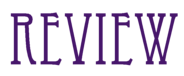 First off, can we take a moment to appreciate the awesomeness of the holographic cover? I've never seen anything like this on a book before! If you've not seen in real life before, on this one; the man is normal, but when you move, he turns into a creepy demon! Moving onwards...
I've personally not read a whole lot of middle grade novels, even when I was a younger kid; I went straight from reading kids books to reading young adult books and the Harry Potter series. I've never really been sure of the reasoning for this, maybe it's because, even as a kid, I was way more mature for my age than anyone else I knew. So, when I found out Quirk Books were wanting people, including me, to review their middle school series, I jumped at the chance.
I was, however, a little wary about what I would think of the characters and the writing style. Usually younger characters really irritate me, this is because they're usually portrayed as really immature (they're kids – and kids are immature in general) and it just irks me. I'm really glad to say that I was very pleasantly surprised when I started reading Professor Gargoyle, because neither the characters nor the writing style was like that! Professor Gargoyle was such an amazing, quick and fun read. The book is primarily aimed at the younger age group, but I think even adults would really enjoy reading it as well.
Robert is our main protagonist; he's twelve years old and lives with his mum who is constantly working. I loved his character - he was a little shy at first starting his new school, but generally quite funny, forgiving and such an innocent and relatable character. Roberts's old School bully ends up attending his new middle school, and even though Robert had hoped the tormenting would have ended by now, he was wrong. I know exactly how it feels to be bullied, as I was bullied since I was a little kid, right up into adult-hood. I'm sure that pretty much everyone has been teased a little at least in their life-time, kids are just cruel and mean a lot of the time – and I found it really interesting to see Robert's reaction to being bullied again. The anxiety of the possibility of having to see that person again, and feeling like you're not able to stand up for yourself – all these emotions were played out really well in the book, creating a very relatable atmosphere.
The illustrations throughout the book were really beautiful and well done. I thought that they added a touch of personality to the book and made it really interesting just to look at in general. Charles Gilman's writing style was great and such a joy to read, and I loved pretty much everything about the book. Although I did think the ending was a little too rushed – I also thought that it was finished really well, leaving the ending perfectly open for the next book in the series to continue on from.
Overall, I really loved reading this book - it was great to read something quick but fun and different from what I usually read for a change. I'll definitely be continuing on this with series, because it feels impossible not too! I gave the book 4/5 stars, and I think it really deserved it - the extra star wasn't given, mainly because of the shortness of the book, the rushed ending and how apprehensive I was about starting this series in the first place. I need to read more of this story as soon as possible – hopefully I'll start reading the sequel, The Slither Sisters sometime soon!
Quotes
Robert looked from left to right and back again. Both girls had fair skin and long red hair. They looked so similar, they could have been sister.
In fact, they looked virtually identical.
"Wait a second," he said. "Are you two-"
"Twins," they said simultaneously, almost sighing, as if they were tired of answering the question. Page 24.
Then there was a hideous snapping sound, and the bottom half of Goyle's jaw collapsed. It fell open like the mouth of a ventriloquist's dummy, revealing sharp white fangs and a gaping black maw. Goyle lowered the hamster between his lips and swallowed it whole. - Page 84.
"You've been a real jerk to me, Glenn. All the name-calling, the pushing, the shoving, the gummy worms. I used to wish that a giant monster would come out of nowhere and swallow you whole. I never thought it would actually happen." - Page 110.