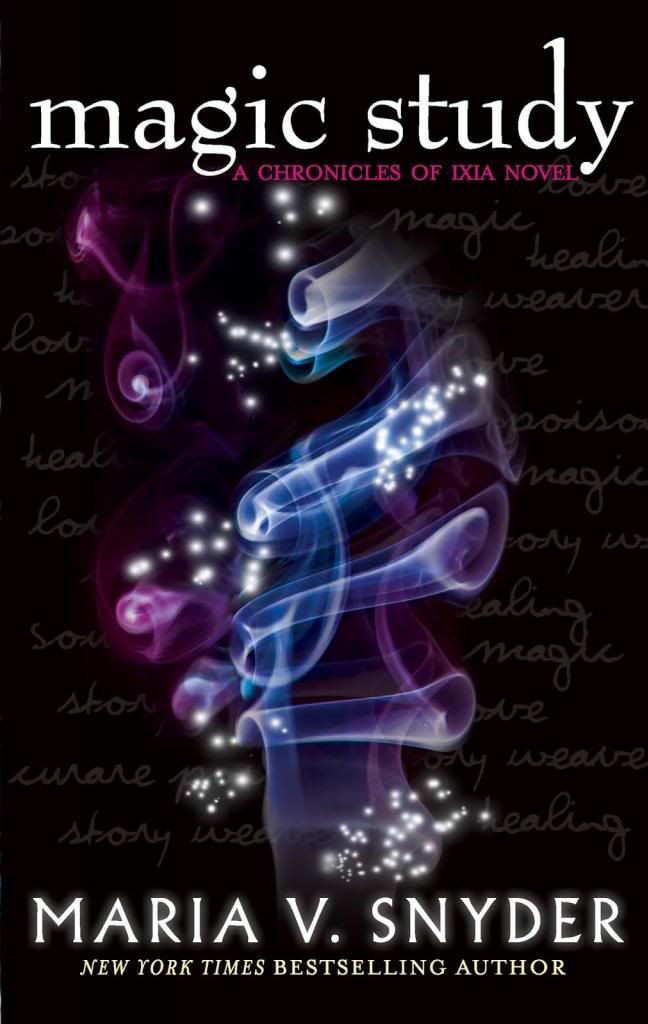 Title: Magic Study.
Series: The Chronicles of Ixia, #2.
Author: Maria V. Snyder.
Publication Date: June 7th, 2013.
Publisher: Mira Ink.
Format: Paperback, 384 pages.
Source: Provided By Publisher.
My Rating:



Discovering her fate could prove deadly...
Yelena Zaltana has been found guilty of possessing magical powers. The Code of Behaviour that rules the land of Ixia states she must be executed.
Escape is her only hope.

But when the freedom Yelena has fought for is once more in jeopardy, she must use her magic to survive.

With only one year to prove herself, Yelena's future is uncertain and when magic is involved one mistake could mean sudden death.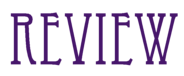 I really enjoyed reading Poison Study, the first book in this trilogy, and I have to say I was a little hesitant and apprehensive about starting Magic Study. I was mainly worried that it wouldn't compare to the first book, but boy was I wrong! Magic Study went above and beyond my expectations and was just as good if not better than the first book. If you love fantasy, action, adventure, magic, well developed characters and bad guys – then I'm sure you'll absolutely adore this series, just as I have. I'd recommend these books, even if you're a little worried about the genres.
Yelena is our main protagonist, and I really love her! When we were introduced to her in the first book, I was a little unsure what to think of her – but now, I really wish she was real so I could meet her. You're able to see Yelena grow throughout Magic Study and I loved how we learned more and more about her past in this book. It was so much fun to read about her developing and starting to learn how to control her powers, as it wasn't the main focus in the first book. Yelena is a smart, fun, hard-working and a hot-headed girl who sometimes has a problem with her temper – but I love her all the same. She's been through a lot since she was kidnapped as a child, and it was emotional to read about how everything still affected her, even a year or so later.
Valek makes another appearance in this book, and I'm so glad he did. I love Valek's character so much, he's dark and brooding, but has a really sweet and caring side that he rarely shows. I think Valek and Yelena are a perfect match for each other and I love their relationship so much; it's sweet but passionate at the same time. There are also quite a few new characters that make appearances in Magic Study, and unfortunately I can't talk about them all – however they were all really strong and well developed characters. I don't think I came across an underdeveloped character in this book at all, and there were plenty to read about! It was great being introduced to them all, and learning about their personalities over time.
Maria V. Snyder's writing is really amazing, and I love pretty much everything about it. My only problem was that, once again, the ending was a little rushed and I did wish it could have been a bit longer. Other than that though, the book was perfect and I thought it was really fantastic! I rarely give books half star ratings, but I thought that it was smack bang in the middle of a 4/5 and a 5/5, and I couldn't decide at first which to choose – so I went with a nice and comfy middle; 4.5/5 stars. I think it well and truly earned the rating I gave it and I really can't wait to read the third and final book in this trilogy and see what happens next and where all the characters end up! I'm also definitely going to be picking up the spin-off series, which is set in the world of Ixia, as I just can't get enough of it!
Quotes
"Living is a risk," I snapped at him. "Every decision, every interaction, every step, every time you get out of bed in the morning, you take a risk. To survive is to know you're taking that risk and to not get out of bed clutching illusions of safety." - Page 244.
He made a weak attempt to look innocent, but I knew better. "Should I guess how many concealed weapons you have or should I strip search you?"
"A strip search is the only way to be absolutely certain." Valek's deep blue eyes danced with delight.
I took three steps and was wrapped in his arms, where I belonged. No worries here. No troubles here. Just Valek's scent, an intoxicating combination of musk and spice. - Page 285.
"Why did Mother ask you to help me rescue Gelsi?" I asked Leif.
"She thought I could assist you in some way. Instead, I had tried to-"
"Kill me? You can join the 'I Want to Kill Yelena Guild.' I hear they have six members in good standing. Valek is president since he had wanted to kill me twice." - Page 398.