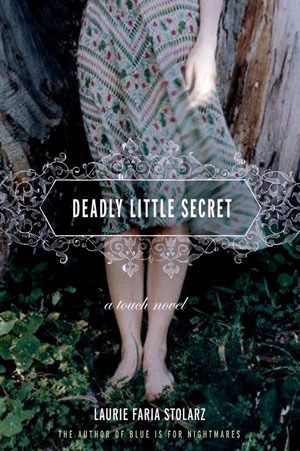 Title: Deadly Little Secret.
Series: Touch, #1.
Author: Laurie Faria Stolarz.
Publication Date: December 16th, 2008.
Publisher: Hyperion.
Format: Hardback, 252 pages.
Source: Bought.
My Rating:



Until three months ago, everything about sixteen-year-old Camelia's life had been fairly ordinary: decent grades; an okay relationship with her parents; and a pretty cool part-time job at an art studio downtown. But when Ben, the mysterious new guy, starts junior year at her high school, Camelia's life becomes far from ordinary.

Rumored to be somehow responsible for his ex-girlfriend's accidental death, Ben is immediately ostracized by everyone on campus. Except for Camelia. She's reluctant to believe he's trouble, even when her friends try to convince her otherwise. Instead she's inexplicably drawn to Ben...and to his touch. But soon, Camelia is receiving eerie phone calls and strange packages with threatening notes. Ben insists she is in danger, and that he can help – but can he be trusted? She knows he's hiding something...but he's not the only one with a secret.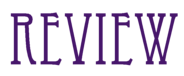 Camelia was just your normal sixteen year old girl, until her life is saved one day by a mysterious boy who pushes her out of the way of a wayward vehicle. After accidently touching Camelia's stomach, he flees without hearing her apology. Three months later, the dark, mysterious boy enrols in her High school and Camelia couldn't be happier. This is until she hears the rumours that are flying around, that Ben, her mysterious hero, is really a killer. Rumour has it he pushed his ex-girlfriend off a cliff and wasn't convicted because of lack of evidence.
Naturally, the entire school shuns him, writing 'killer' on his locker, whispering about him in the hallways and calling him a murderer. Even though her friends believe he's trouble, Camelia refuses to believe so and is unexpectedly drawn to Ben and his touch. Not long after Ben re-appears in her life, Camelia starts receiving photographs of herself; covered in hearts, eerie phone calls and packages with threatening notes. Ben insists that Camelia is in danger and wants to help her, but he's hiding something; something she's determined to figure out. But if she's truly in danger, who can she trust?
Wow, that's all I can say. This was one of the most amazing books I've ever read. It was a relatively fast paced book and was also a relatively short read at only about 250 pages. However, this does not detract from the incredibility of this book. It has such an original storyline and the suspense created was amazing. A lot of times whilst reading this book, Camelia became suspicious of Ben, but still refused to believe it's true. She seemed to be in total denial, swayed by Ben's pretty face - which was sort of irritating at times – but I suppose most girls are blinded by a pretty face.
Throughout this novel I became heavily suspicious of quite a few of the characters, none of which I'm going to name though. They all seemed like they had something to hide, had the ability and need to stalk Camelia or the obsession over her. Even though I actually liked Ben's character, he was still very suspicious – but I suppose that's the way the writer wanted it to be. His character was sweet, caring and withdrawn. The chemistry between Camelia and Ben was swoon-worthy (I can't believe I actually used that phrase), I felt like you could literally see it steaming off of them.
I liked Camelia's character, she seemed to have a pretty normal life, apart from the stalking of course, and she didn't whine about stupid things like many characters I've read before. She was very supportive of her friends and I thought her friendship with Kimmie, her best friend was lovely and their characters complimented each other perfectly. They seemed to really understand one another and were each as supportive as the other.
The chapters, albeit short, were really well written and flowed smoothly from one to another. There weren't giant gaps between the scenes when chapters ended, which ensured the continuation of the storyline directly. I loved the chapters that were written by the pursuer, it was really interesting to get inside his head, to hear what he was thinking and to read about his obsession. (I say 'he' rather loosely, as I just thought it was a male) As for the ending of the book, I thought it was a little too fast paced and rushed, but it didn't let down the overall book.
Whilst reading this book, my heart was pounding and my pulse racing. The anticipation in this book was incredible and I couldn't put it down. It's such a shame I can't rate it more than 5/5 stars, because I believe it deserves so much more! Laurie Stolarz is an amazing writer and I can't wait to get my hands on the sequel and any other books she may write.
Quotes


By fifth block of the day, not even three hours after I first spotted him in the cafeteria, the story has grown into something you might see on a made-for-TV movie. People are saying Ben strangled his girlfriend before he pushed her over the cliff that day; that when the police searched his backpack they discovered a roll of duct tape, a ten-inch knife, and a list of other girls he'd wanted to attack. - Page 15.

My pulse races as I approach the door. I look out the peephole, but there's no one standing there. I tell myself it must have been a door-to-door salesperson and that he or she must have moved on already. A moment later, I hear a pelting noise coming from down the hall. I take a deep breath, wishing we had an alarm system, then grab the phone to dial my dad's cell - but it won't click on, and I can't get a dial tone. Meanwhile, my cell phone's in my bedroom. - Page 135.

My hand trembles over my mouth. I approach the dresser. There's a mysterious pile of fabric sitting on top of it. I let out a breath and move a little closer, almost startled by my own reflection in the mirror by the way the word BITCH cuts across my face and makes me look like I'm bleeding. - Page 150.